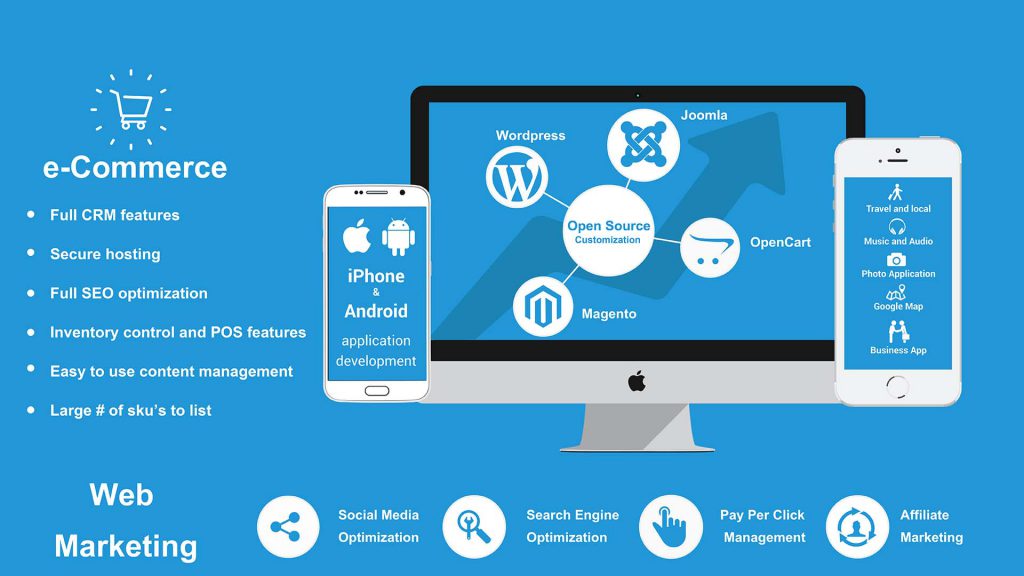 Web development is the building new website and maintenance of websites.it is the work that happens behind the scenes to make a website look great, work fast and perform better, Attractive, user-friendly, fully responsive.

Why Web Development is important?
Web development services help your company to increase product knowledge, maintain communication between you and potential clients, sell your products or services, generate leads for the business, and increase the popularity of your company and much more.
BV InfoTech Provide The most popular types of Websites.
Blog
our blog gives you the opportunity to create relevant content for your customers. Use this as a marketing tactic to drive traffic back to your website. Make the blog on your website the foundation for all of your social media platforms
Business
A website not only helps small businesses promote and sell their products and services, but it also allows them to distinguish themselves from their competitors, especially for customers who rely heavily on the Internet to learn everything about a company.
Brochure
A well-designed brochure serves as a perfect introduction to your business. Accurately distributed, brochures can expand your company's visibility. Brochures are great marketing tools when reaching out to new customers. Brochures can provide positive press about your company.
Ecommerce
Having your own website is an important piece of your ecommerce strategy. It is a great way for you to grow your brand, acquire loyal customers, gain new insights, and get creative with your marketing. ... Diversifying where you sell online can help you reach new customers, especially as ecommerce becomes more competitive.
Educational
The importance of having a good school website. School website is very important for making a good first impression as it often is the first contact that people have with the school. Therefore, the school website affects the overall image and reputation of your school which can lead to increased admissions.
Media or Entertainment
Integrating your website with your social media channels can help you draw in an even bigger audience than with your website alone. Having a well-thought-out social media strategy can help not only with your traffic, brand recognition.
Non-profit
Websites play a key role in promoting your organization and cause beyond peer-to-peer referrals. Nonprofit websites are perfect tools for social sharing and brand discovery–allowing your nonprofit access to potential advocates and volunteers. Build a case for on-going, monthly donations.
Personal
You'll keep customizing and polishing your personal website in order for it to have a professional look and feel. ... Not only will you know how to engage your visitors, but you'll also learn how to be more visible on social media and how to promote your site.
Portal
Web Portals allow users to surface information that is specific to their need. It allows organisations to increase their engagement with customers, employees and partners by enabling new information to be accessed by an engaged community on the fly.
Web Design and Development Process